The forklifts Collision Avoidance System (CAS-G2) cautions forklift drivers of the presence of another truck within settable distances of 5-20 metres. A light and/or buzzer is triggered when another forklift is detected, alerting the driver to potential hazards in the area. Blind spots or intersections can also be setup with a Collision Avoidance System (CAS-G2) unit, making the crash avoidance system a valuable piece of safety equipment. Industrial workspaces are full of hazards, but by installing an accident avoidance system you can leverage the power of technology and reduce the risk of accident and injury.
Forklifts are fitted with the CAS-G2 system. It will detect other vehicles also fitted with the CAS-G2 system. There are two zones, Warning and Danger. Both these zones have pre-programmed detection distances of 3, 5, 10 and 15m. Other customisable detection distances (1m up to 20m) are available on request. You can customise combinations of light and buzzer alerts when forklift activation occurs in both Warning and Danger Zones. If the forklift is fitted with speed limiting hardware, speed reduction can be triggered when another forklift is detected.
The CAS-G2 can also be wall-mounted and used in conjunction with the vehicle-mounted CAS-G2 as an effective way for doorway notification. For added pedestrian safety the CAS-G2 can be connected with the Shockwatch Pedestrian Alert System (PAS).
This means that even if a forklift is travelling through a blind spot or moving behind a shelf or a space that prevents it from being clearly seen, the system will detect its presence and warn drivers approaching so that they can take the necessary precautions.
The CAS-G2 system can be used in loading and unloading areas, spaces with low visibility, places with pedestrian and forklift crossings, work spaces where pedestrians and load vehicles coincide and spaces with high intensity forklift traffic. It is ideal for warehouses, ports, factories and industries.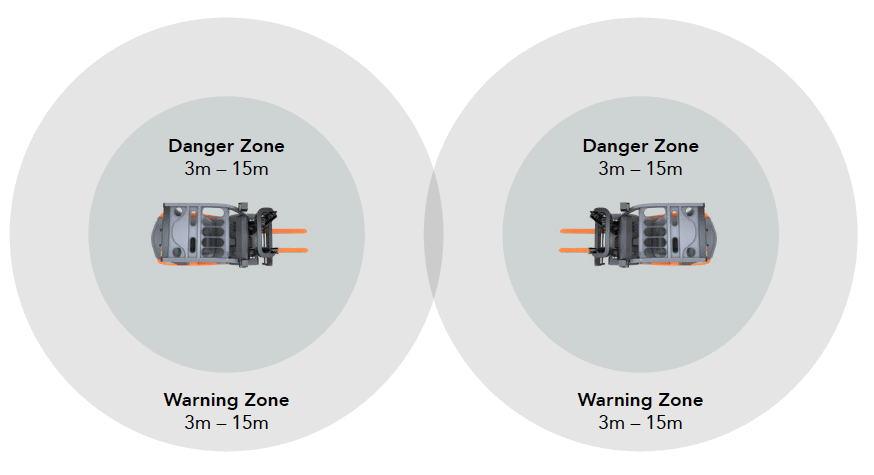 MAIN OPERATING CHARACTERISTICS
Detection of other forklifts to avoid collisions
Both Warning and Danger Zones have pre-programmed detection distances of 3, 5, 10, and 15m. Other customisable detection distances are available on request
Option to speed limit forklift on detection (if forklift model permits)
The CAS-G2 can also be used in conjunction with the ShockWatch Pedestrian Alert System (PAS)
System components are all rugged and long-lasting
Loading and unloading zones
Poor visibility areas at junctions between pedestrians and forklifts
Areas with high forklift traffic