The WarmMark Duo temperature indicators are single use devices that provide accurate, irreversible evidence of any above temperature deviation allowing you to make smarter decisions across the cold chain.
The WarmMark Duo temperature indicators are ascending time temperature indicators that alert users of exposure to unacceptably high temperature conditions and indicates the duration of temperature exposure at two different activation temperature levels, 10°C and 34°C in the one indicator.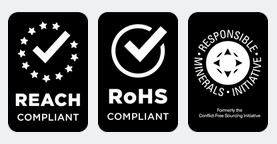 WarmMark Duo window run out times
Threshold
Temp
Run-Out Time*
Window 1
Window 2
Window 3
Window 4
10°C
3 days
 8 days
 14 days
–
34°C
–
–
–
Within 30 mins
* Run-out times are based on a 2°C excursion above the response temperature. Readings are affected by the severity of the temperature excursion.
Higher temperatures will cause run-out to occur faster than stated.
Dual Threshold Time/Temperature indicator
Provides irreversible evidence of exposure to unacceptable temperature conditions
Field armable with pull tab
Helps verify the adequacy of packaging
Aids in compliance with regulatory guidelines
Provides cost-effective monitoring for last mile shipments
Enables easy accept/reject decisions
Temperature sensitivity
Black stripes show the product is armed
Pharmaceuticals
Diagnostics
Vaccines
Biologics
Test kits
Test Specimens