The WarmMark Duo temperature indicators single-use devices that provide accurate, irreversible evidence of any above temperature deviation allowing you to make smarter decisions across the cold chain.
The WarmMark Duo temperature indicators are ascending time-temperature indicators that alert users of exposure to unacceptably high temperature conditions and indicates the duration of temperature exposure at two different activation temperature levels, 10°C and 34°C in the one indicator.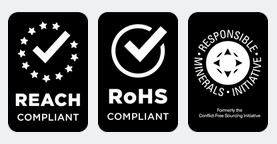 WarmMark Duo features:
Monitor for the length of time above 10°C and for brief excursions above 34°C
Know if a product has been exposed past a threshold and check for high temperature spikes
WarmMark Duo window run out times:
Threshold
Temp
Run-Out Time*
Window 1
Window 2
Window 3
Window 4
10°C
3 days
 8 days
 14 days
–
34°C
–
–
–
Within 30 mins
* Run-out times are based on a 2°C excursion above the response temperature. Readings are affected by severity of temperature excursion.
Higher temperatures will cause run-out to occur faster than stated.