Timestrip Temperature Monitoring for COVID-19 Vaccines
Timestrip has a range of temperature indicators that monitor time frozen vaccines have been kept out of the frozen environment, to confirm they have not been left to thaw for too long, including a quality control resolution for proper transport/handling of ultra-frozen vaccines.
Ultrafrozen Vaccine Temperature:   When a vaccine is placed outside its -70°C storage temperature into a fridge before use, the Vaccine Thaw Timer will start recording the time the vaccine spent thawing in the refrigerated environment.
30 Day Fridge Storage:   Measures 30 days in refrigerator temperatures, indicating when 10, 20 & 30 days have passed.
Out of Fridge Monitoring:   Starts measuring time once vaccine is taken out of the refrigerator for up to 12 hours above 2-8°C.
Manufacturing
Timestrip Vaccine Thaw Timer indicators can be placed with the vaccine consignment.
Uniquely tolerating even the lowest 80°C temperatures.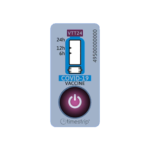 Distribution
Indicators provide constant check and alert to thaw conditions.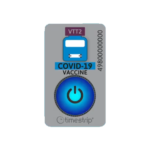 Point of Care
(Local Storage)
Vaccine refrigerator monitor tracks time in fridge.
Typically 30 days.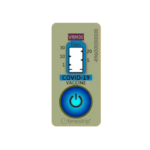 Patient
Vaccine Out of Refrigerator tracks time out of fridge.
Typically 12 hours.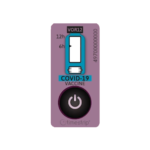 Electronic Temperature Indicators
Electronic indicators such as the eTimestrip TIR are small, robust electronic temperature indicators that provide a cost effective, reliable way to detect temperature breaches. These electronic temperature indicators have several pharma, healthcare and bulk food applications.
Free downloadable app (iOS & Android) provides access to auditable stored data (to 21CFR Part 11)
LEDs provide simple and immediate temperature breach notification
No special software or training required
☑ eTimestrip TIR:  Two temperature ranges available, 2-8°C and 0°C. The status of the journey can be read by the LED lights on the devices and by PDF reporting.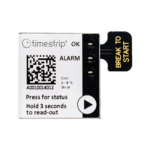 ☑ eTimestrip Complete:  2-8°C temperature monitoring with LED lights and reporting via the eTimestrip App. Two models available, eTimestrip TIR TC489 and  eTimestrip TIR TC490.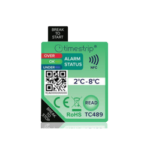 COVID-19 Vaccine Manufacturer Temperature Monitor Guide
Vaccine Temperature Monitors from Timestrip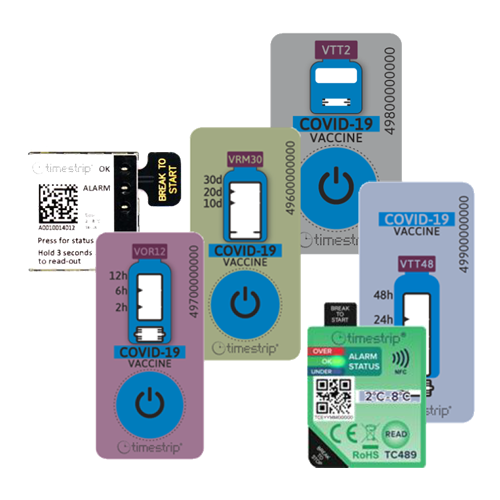 Robust, waterproof construction (IP67)
Easy to use by all personnel
Clear irreversible alarm indication
Cost effective solution to cold chain monitoring