TempU 02 temperature recorders are low cost single use recorders that alert you if your shipment has fallen out of the refrigeration zone (2°-8°C).
TempU 02 temperature monitoring system requires no software and come with preset temperature alarm limits. This makes it a simple solution for monitoring your refrigerated shipments.

Available Configurations:
TempU temperature recorders are available in three configurations, 30 days, 60 days (standard) and 90 days.
Both the 30 days and the 90 days are available on request. Temperature data loggers provide continuous temperature monitoring.
60 day temperature recorder
Temperature alarm reporting and mark in red
Generates a detailed PDF report of trip data
2 year battery life
Designed for logistics temperature monitoring
Precise and highly sensitive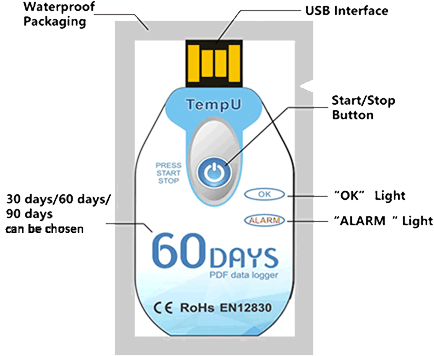 Floral
Specimens
Chocolate
Tissue samples
Pharmaceutical
Meal delivery
Raw and cooked meats
Chemicals