The TiltWatch XTR tilt indicator detects unacceptable tilting on goods that must remain upright. When these indicators are used, the product cannot be tipped without indisputable evidence of mishandling.
The TiltWatch XTR tilt indicator turns red if the container it is affixed to is tilted past 80° or is completely upended. TiltWatch XTR tilt indicator will not activate under normal handling conditions or aircraft take-offs.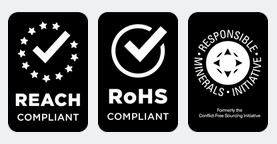 Types of products that could be monitored with the TiltWatch XTR tilt indicator
Large computer systems
Top heavy electro-mechanical systems
Telecommunications equipment
Photocopiers
Refrigeration equipment
Medical equipment
Large glass related items
Mounting the TiltWatch XTR
The TiltWatch XTR impact indicators should be placed in an upright position near the lower corner of the container or package.
Two TiltWatch XTR are required for each package mounted on adjacent sides to monitor all planes.
A Complete TiltWatch XTR Tilt Indicator Program
Success of the Shockwatch Program is measured by a reduction in damage. Preventing mishandling is the key to damage reduction.
In order to prevent mishandling, communication with everyone in the supply chain is key.
Contact us for further information on the Shockwatch Program.
Optional Companion Labels and Alert Tape are recommended for use with the TiltWatch XTR as additional tools that increase the visibility or the handling requirements of your package. The TiltWatch XTR is applied to the Companion Label and the Companion Label is applied to the shipment.
(see Related Accessories tab below)
| | | | |
| --- | --- | --- | --- |
| | Acts as a visual deterrent to improper handling | | Promotes a chain of accountability for all product handling |
| | Reduces mishandling through awareness | | Confirms effectiveness of packaging |
| | Provides indisputable evidence of mishandling | | Help identify trouble spots in the supply chain from production to transportation and storage |
| | Alerts recipient to inspect contents before acceptance | | Helps increase the quality of product from dock to dock |