ShockWatch Labels Impact Iindicators
Deter mishandling and reduce damage related costs to your products by indicating when the packaging has been exposed to a potentially damaging impact during transit or in storage. ShockWatch labels are tamperproof, mechanically activated devices that turn bright red when an impact occurs over the g force threshold of the ShockWatch label. Shockwatch Labels have an omni-directional impact response.
Selecting the most suitable Shockwatch Label impact indicators
Available in five sensitivities (g forces), as indicated by the five different colours – simply match the sensitivity of the ShockWatch Label to the level of impact the product and packaging can withstand based on any non operating shock specifications that the product may have or select a ShockWatch Label based on the mass and size of your shipment from our Shockwatch Label Selection Guide below.
Shockwatch Labels visually deter and detect mishandling
The Shockwatch Labels impact indicators mount to the exterior of packaging of a shipment and visually alerts everyone involved in the handling of the package that additional care is required. If mishandling occurs during the shipment and handling cycle, the Shockwatch Label serves as a permanent record of mishandling.
If a package has not been mishandled, the circular indicator in the centre of the ShockWatch Label will remain white. If the package has been dropped, the indicator will show full or partial red colouration. Any red in the ShockWatch Label impact indicators window alerts receivers to inspect the package for any potential damage.
Economical solution to reduce your damage related costs
Shockwatch Labels impact indicators offer an economical solution to prevent damage during product transit.
Indicate when mishandling has occurred with ShockWatch Labels impact indicators
The Shockwatch Labels impact indicators are not indicators of damage, they are an indicator of mishandling. If a shipment arrives at a destination with an activated Shockwatch Label, the receiver should immediately note any visible damage to the shipment, open the package and inspect for any damage to the goods.
Using Shockwatch Label impact indicators to determine if any damage to the product may have occurred requires in house drop testing to ascertain the Shockwatch Label which is most suitable. This may lead to reducing the number of inspections that may have to be performed by the end user.
Shockwatch Label Selection Guide
There are two things you need to know to begin selecting a ShockWatch Label impact indicator sensitivity: shipment size (m³) and weight (kgs).
The selection guide should always be used as a starting point only. The label that will be best suited to your application will also take into account product fragility and packaging.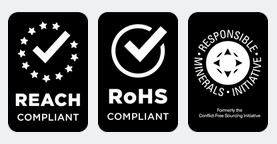 A Complete Shockwatch Labels Impact Indicators Damage Prevention Program
The ShockWatch Program is more than just an impact indicator. A key element in the success of using Shockwatch Labels are the companion tools. When used in conjunction with companion labels, alert tape and communication tools, Shockwatch Labels become a highly effective damage reduction and prevention program.
Implementation of this program provides psychological reinforcement of proper handling procedures and changes the behaviour of material handlers. It provides a highly visible deterrent to mishandling throughout the supply chain and encourages package handlers to be more conscious of their behaviour and surroundings.
Success of the Shockwatch Program is measured by a reduction in damage. Preventing mishandling is the key to damage reduction.
In order to prevent mishandling, communication with everyone in the supply chain is key.
Download our Shockwatch Impact Indicators Implementation Guide
Contact us for further information on the Shockwatch Program or if you would like any information on Shockwatch Labels Activation Curves.
Optional Companion Labels and Alert Tape are recommended for use with the Shockwatch Label as additional tools that increase the visibility or the handling requirements of your package. The Shockwatch Label is applied to the Companion Label and the Companion Label is applied to the shipment.
(see Related Accessories tab below)
| | | | |
| --- | --- | --- | --- |
| | Acts as a visual deterrent to improper handling | | Promotes chain of accountability for all product handling |
| | Reduces mishandling through awareness | | Confirms effectiveness of packaging |
| | Provides indisputable evidence of mishandling | | Helps identify trouble spots in the supply chain from production to transportation and storage |
| | Alerts recipient to inspect contents before acceptance | | Helps increase quality of product from dock to dock |
​