ShockWatch Tubes impact indicators are designed to be embedded into your product to monitor excessive impacts.
ShockWatch Tubes are highly visible, mechanically activated devices that turn bright red when an impact occurs. The ShockWatch Tube can be incorporated directly into a product's design. These solutions are ideal when you need to know if product mishandling may have resulted in misalignment, loss of product calibration or warranty-related repair issues.
ShockWatch Tubes are mechanical which means they do not require a power source. These devices can be integrated into system hardware without the worry of additional power consumption. Simply mount the indicator into your product and you are ready to go.
ShockWatch Tubes are selected according to the impact amplitude and duration which define the damage profile of a product. Heavier products are more likely to be damaged by lower g amplitudes with longer durations while lighter products are more susceptible to higher g amplitudes with shorter durations.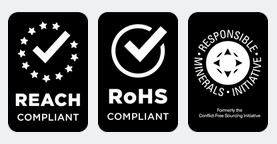 Tamper-proof design prevents concealment of an activation without obvious evidence of interference
Compliance and field tested for use in multiple manufacturing, shipping and usage environments
Managed and supervised to ISO quality certifications and compliance standards
Aerospace and Defense
Construction – Supplies and Fixtures
Electronics
Sports Equipment
Scientific and Technical Instruments
Computer Hardware
Electronics
Lasers
Tools