ShockWatch Clips impact indicators
Are highly visible impact indicator that alerts you if your product has been subjected to unacceptable handling. The single Clip has one tube and will provide nearly 360 degrees of detection. The double Clip has two tubes and gives a full 360 degrees of detection. Clips are mainly used either embedded or attached to the exterior of hand held and calibrated products.
ShockWatch Clips impact indicators are ideal when you need to know if product mishandling may have resulted in misalignment, loss of product calibration or warranty-related repair issues.
Lost Calibration for measurement equipment
Products such as measurement equipment, gyroscopes, weaponry or medical devices require precise calibration in order to operate properly. Impacts can result in misalignment of critical components.
ShockWatch Clips impact indicators indicate if an impact has been experienced that could potentially result in misalignment and the need for recalibration.
Warranty Abuse
Most companies offer a warranty period during which non-functioning products are repaired or replaced at no cost to the end user. Service calls involve labour costs of making repairs and overseeing administrative processes, spare parts costs and the costs associated with unhappy customers.
In order to monitor for mishandling, ShockWatch Clips can be integrated into or mounted on the product. These devices are excellent tools to improve customer handling and reduce warranty costs associated with mishandling.
Types of products that could be monitored with the ShockWatch Clips
Hard drives
Sensitive electronics
Communications equipment
Avionics / Gyroscopes
Handheld electronic devices
Audio visual / Broadcast equipment
Medical equipment
Laboratory equipment
HDTV equipment
Consumer Electronics
Retail
Aerospace and Defense
Auto and Truck Parts
Security Systems and Services
Robotics
Glass
Electronics
Sports Equipment
Equipment Rental
Appliances
Water Treatment / Filtration
Electronics – Computer Hardware
Medical Devices and Supplies
Industrial Equipment
Construction – Supplies and Fixtures
Chemicals/Petro-Chemicals
Scientific and Technical Instruments
ShockWatch Clip Selection Guide
The selection guide should always be used as a starting point only. The final selection will be dependent on your specific product's characteristics and your monitoring goals.
To select the proper activation levels, determine if shock specifications exist for the product to be monitored. Most complex electro mechanical products such as hard drives, avionics, analysis instruments, etc. have been through extensive testing to establish shock damage boundary data. If this information is available, the selection process is quite simple. Select the clip type and sensitivity to match.
All product is rated at 50 milliseconds
MC= clip with one window (single).
MCD = clip with two windows (double)
Activation Height


(drops on hard surfaces)




85MC, 85MCD (10G)
Activates at 5cm to 10cm


Avionics
Removable hard drives
Electronics
Medical products

75MC, 75MCD (15G)
Activates at 7cm to 15cm


Avionics
Electronics
Medical products
Military Devices

65MC, 65MCD (25G)
Activates at 10cm to 20cm

Avionics
Electronics
Medical
Audio Visual Equipment
Military Devices

55MC, 55MCD (37G)
Activates at 15cm to 35cm

Avionics
Audio Visual

Equipment

Field Test Equipment

47MC, 47MCD (50G)
Activates at 20cm to 45cm

Audio Visual Equipment
Electronics
Avionics
Field test equipment

35MC, 35MCD (75G)
Activation trends at 47cm to 61cm

Avionics
Audio Visual Equipment
Electronics
Field test equipment
Tablets

30MC, 30MCD (100G)
Activation trends at 61cm to 101cm

Field test equipment
Tablets

CX25 and CXX25 (150G)
Activation 76cm to 122cm

Portable electronic equipment

Flex 45/45 High G (150G @ 5msec)
Activation 76cm to 112cm
Flex 40/55 High G (170G @ 5msec)
Activation 112cm to 148cm
Flex 40/65 High G (195G @ 5msec)
Activation 148cm to 183cm
Multi–G Clips

(25g-50g-75g)

Activates at three different levels

In house drop testing
Decide which label/clip to use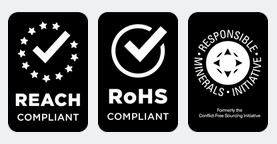 A Complete ShockWatch Clip Impact Indicator Program
Success of the ShockWatch Program is measured by a reduction in damage. Preventing mishandling is the key to damage reduction.
In order to prevent mishandling, communication with everyone in the supply chain is key.
Contact us for further information on the ShockWatch Program or if you would like any information on ShockWatch Clips Activation Curves.
Acts as a visual deterrent to improper handling
Reduces mishandling through awareness
Provides indisputable evidence of mishandling
Alerts recipient to inspect contents before acceptance
Promotes chain of accountability for all product handling
Confirms effectiveness of packaging
Helps identify trouble spots in supply chain, from production to transportation and storage
Helps increase quality of product from dock to dock