MAG2000 impact indicators
are cost-effective, resettable and reusable devices designed to monitor the handling of fragile goods and freight containers greater than 227 kgs.
The device is also widely used on rail cars and trucking fleets to monitor for excessive impacts during humping or latching as well as transformers or rotors for example.
How the MAG2000 works
The MAG 2000 impact indicators utilise two magnets, the bottom magnet held rigidly in place and an upper magnet held in place by the mutual magnetic field attraction. Each MAG2000 is factory set to a particular g force. When acceleration due to impact or vibration is strong enough to create a force greater than the magnetic force of the particular MAG2000, the upper magnet is forced off its "home" position and appears in a visible position within the device.
The MAG 2000 also indicates the angle of impact by the position of the indicator magnet. The g-activation level is factory set and available in a wide variety of settings from 2G to 20G. Selecting the most appropriate MAG2000 can be done using our MAG2000 Selection Guide.
Resettable and tamperproof
A uniquely designed key is supplied to unlock the cover on the unit. This key allows the product to be reset after activation and resists tampering.
Economical solution to reduce your damage related costs
MAG2000 impact indicators offer an economical solution to prevent damage during product transit. The MAG2000 can be reset and reused and is tamperproof.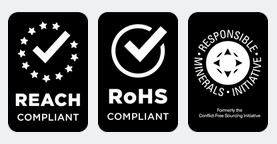 Indicate when mishandling has occurred with MAG2000 impact indicators
While MAG2000 impact indicators can be mounted on either a product or the product packaging. However, it is generally advisable that the MAG2000 impact indicators be placed on the product since the impact experienced by the product itself is generally more important than the impact received by the packaging.
The placement of the MAG2000 impact indicators will affect the selection of the proper sensitivity.
Contact us for further information on MAG2000 Activation Curves.
Benefits of using MAG2000 Impact Indicators
| | | | |
| --- | --- | --- | --- |
| | Acts as a visual deterrent to improper handling | | Promotes chain of accountability for all product handling |
| | Reduces mishandling through awareness | | Confirms effectiveness of packaging |
| | Provides indisputable evidence of mishandling | | Helps identify trouble spots in supply chain, from production to transportation and storage |
| | Alerts recipient to inspect contents before acceptance | | Helps increase quality of product from dock to dock |
| | Monitor for excessive impacts during humping or latching on rail cars or trucking fleets | | |